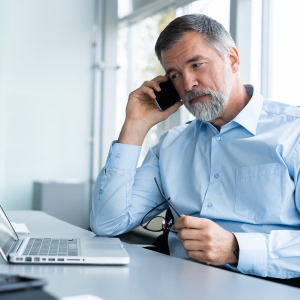 With the unpredictable state of today's job market, many Americans in their 40s, 50s, and beyond have suddenly found themselves out of work or facing reduced work schedules. The coronavirus has significantly altered the way we earn an income, and if you've dreamed of changing careers, you're not alone. Stop holding back. Take advantage of these tips and navigate your midlife career change with confidence.
Identifying a Mid-Career Shift
The job environment during the pandemic has impacted us in many unexpected ways. The workplace may never be the same, thanks to social distancing requirements. Recent advances in technology have reduced the need for certain jobs, such as assembly line workers. Some of these once dependable occupations will likely never return.
The economic fallout from COVID-19 caused a dramatic spike in unemployment. The number of Americans out of work peaked at 14.8% in April of 2020, falling to 6.1% in April 2021. However, labor market disruption still lingers. Unemployed workers feel the emotional strain of job loss, causing many of us to consider switching occupations.
Reinventing Your Career
The way our country manages the coronavirus is reshaping our world. What we once thought to be a temporary situation is now our "new normal."  Many jobs have been completely eliminated thanks to remote workers and automation. Shutdowns and stay-at-home orders have dealt a devastating blow to many small businesses and a wide range of industries, like fitness centers and restaurants.
You might find yourself struggling to find a new job amid all these changes. With prospects for future employment sparse, many mature adults are seriously considered changing fields or diving into new occupations. 
Are you afraid you're too old to start a brand new career? Ask yourself these questions when you're contemplating a career overhaul later in life:
Are your passions translatable into a new occupation?
Are you in a financial position to go back to school for additional training?
Do you have an emergency plan in place just in case?
What are your motivations for this mid-life career shift? 
Are there other viable solutions besides job hunting?
Can you reconnect with former colleagues for help in your search?
Juggling Multiple Part-Time Jobs
Adapting to the working world may have many of you juggling more than one part-time job to make ends meet. Having to work multiple careers to make up for lost work is challenging in many ways, from time constraints to transportation costs. 
With all this upheaval, you still want to know how you will work, live and thrive in the post-pandemic future. These tips can help you succeed:
Effectively manage your time with a day planner, to-do lists, and software programs like Scoro.
Choose your assignments carefully. What kind of job are you willing to commit to?
Watch your bank balance to ensure extra expenses you incur are covered by your income sources.
Make sure you don't take on more work than you can effectively manage.
Communicate availability and commitments to each employer so you can manage their expectations.
The Changing Interview Process
Job hunting during COVID-19 is a whole new state of affairs. Recruiters are adjusting their hiring processes to fit these unusual circumstances. You can expect most interviews to be remote, like over the phone or via Zoom. Being prepared is still the best way for you to make a confident first impression. 
Nail your next virtual interview by:
Making sure that your equipment, such as your microphone, is working properly.
Picking a spot with a background that isn't distracting.
Showing up a little early. Be seated, ready to go, and remember to smile.
Ensuring you're well-prepared to explain why you're changing careers.
Minimizing the chances of interruptions, such as your barking dog.
Work With a Career Coach
During these turbulent times, we can all use some unbiased advice. As businesses start re-opening across the country, a career advisor can help navigate these new employment possibilities with honest, impartial advice.
As the pandemic rages on, many older workers depend on nontraditional career counselors like psychics for help. These professionals can draw upon dreams, ancient numerology, and conversations with spirits to help you realize your dream job. Even if you're reluctant to look for more satisfying work, these coaches help you navigate any transition you face in your career.
If you're thinking about leaving your job but aren't sure, you may want to hire a career coach. But what can a career coach do for you?
Help direct you when you're unsure which path to take.
Explore ways to chase a new passion.
Decide when you're ready to move to the next level.
Give you an extremely helpful outside perspective from a professional.
Be Kind to Yourself 
If you're wondering what the future looks like for mature workers, you're not alone. Job security and financial health are essential to your overall happiness, and the pandemic will continue to have major implications on business and national economies.
Living in this uncertain time makes it even more important to be kind to yourself. Many adults have found comfort by maintaining a positive outlook and decreasing stress by following this advice:
Take a family walk or ride your bike to the grocery store.
Make nutritious meal choices, as good health starts in the gut.
Get seven to nine hours of sleep per night if possible.
Schedule in some downtime between interviews to relax. Try reading or meditating.
It's never too late to change careers. Have the courage to follow your path to success, whether that means an increase in pay, more time with the grandkids, or the chance to learn something new. Embrace this challenging time. You'll be happy you did.